Introduction
Brief Overview of the Importance of HVAC Systems
Are you battling the sweltering Kentucky summer heat or shivering through the icy winter? Your home should be a sanctuary of comfort, and the unsung hero making that possible is your heating, ventilation, and air conditioning (HVAC) system. These systems are the guardians of your comfort, maintaining pleasant temperatures year-round, filtering out pollutants for healthier air, and even helping to reduce energy costs when properly maintained.
However, when your HVAC system falters, it's not just your comfort at stake. A poorly maintained system can lead to high energy bills, poor air quality, and even health risks. Thus, understanding the workings of your HVAC system and the importance of regular maintenance can make all the difference in your home's comfort and your wallet.
The Role of HVAC Companies in Kentucky
Enter the heating and air repair companies in Kentucky, the true HVAC heroes. These companies play a pivotal role in ensuring the functionality of your HVAC systems. From regular maintenance and prompt repairs to total system replacements, these companies provide the expert services you need to keep your HVAC system running smoothly.
However, with numerous HVAC companies in Kentucky, finding the right one can be a challenge. You need a company that is reliable, experienced, and above all, prioritizes your comfort and satisfaction. This is where the expertise of companies like Thompson Heating & Cooling comes in.
In the following sections, we'll delve into the HVAC industry in Kentucky, compare top HVAC brands, spotlight exceptional local companies like Thompson Heating & Cooling, and provide you with tips to choose the right HVAC company for your needs. So, stay tuned to discover more about Kentucky's top HVAC heroes and expert heating and air repair companies.
Understanding the HVAC Industry in Kentucky
The HVAC industry plays an integral role in ensuring the comfort and well-being of residents in the Bluegrass State. With Kentucky's humid subtropical climate, heating and air repair services are not just a luxury, but a necessity. Whether it's sweltering summer days or chilly winter nights, reliable HVAC systems, and the professionals who service them, are critical for maintaining a comfortable living and working environment.
The Biggest HVAC Companies in the US and Their Presence in Kentucky
In Kentucky, you'll find a presence of some of the largest HVAC companies in the US, including Carrier Global Corporation, Trane Inc., and Lennox International Inc. These industry giants offer a range of HVAC solutions, from residential to commercial, and are known for their extensive distribution networks and quality products.
However, it's important to note that while these companies manufacture the HVAC units, the installation, maintenance, and repair services are often provided by local contractors and companies. For instance, Thompson Heating & Cooling, a leading HVAC company in Kentucky, is known for its exceptional service and expertise in handling various HVAC brands, including the ones mentioned above.
The Importance of Choosing a Reliable HVAC Company
When it comes to ensuring the longevity and efficiency of your HVAC system, choosing a reliable HVAC company is paramount. A good HVAC company is equipped with the expertise to handle your specific heating and cooling needs, provide insightful recommendations, and deliver quality repair and maintenance services.
Notably, one such company is Thompson Heating & Cooling, which stands out for its deep understanding of all aspects of heating and cooling. From evaluating your home's needs and installing new systems to performing routine maintenance and diagnosing issues, their team of knowledgeable technicians provide comprehensive HVAC services.
Furthermore, their commitment to customer service, use of top-quality HVAC equipment, and comprehensive range of services make them an excellent choice for homeowners and businesses alike. They are also licensed, bonded, and insured, indicating a high level of technical competence and ethical business practices.
The importance of choosing a reliable HVAC company cannot be overstated. It goes beyond just immediate repair needs and impacts the overall health of your HVAC system, energy efficiency, and ultimately, your wallet. So, as you navigate the HVAC industry in Kentucky, remember that your choice in an HVAC company is a critical decision that should be made with careful consideration.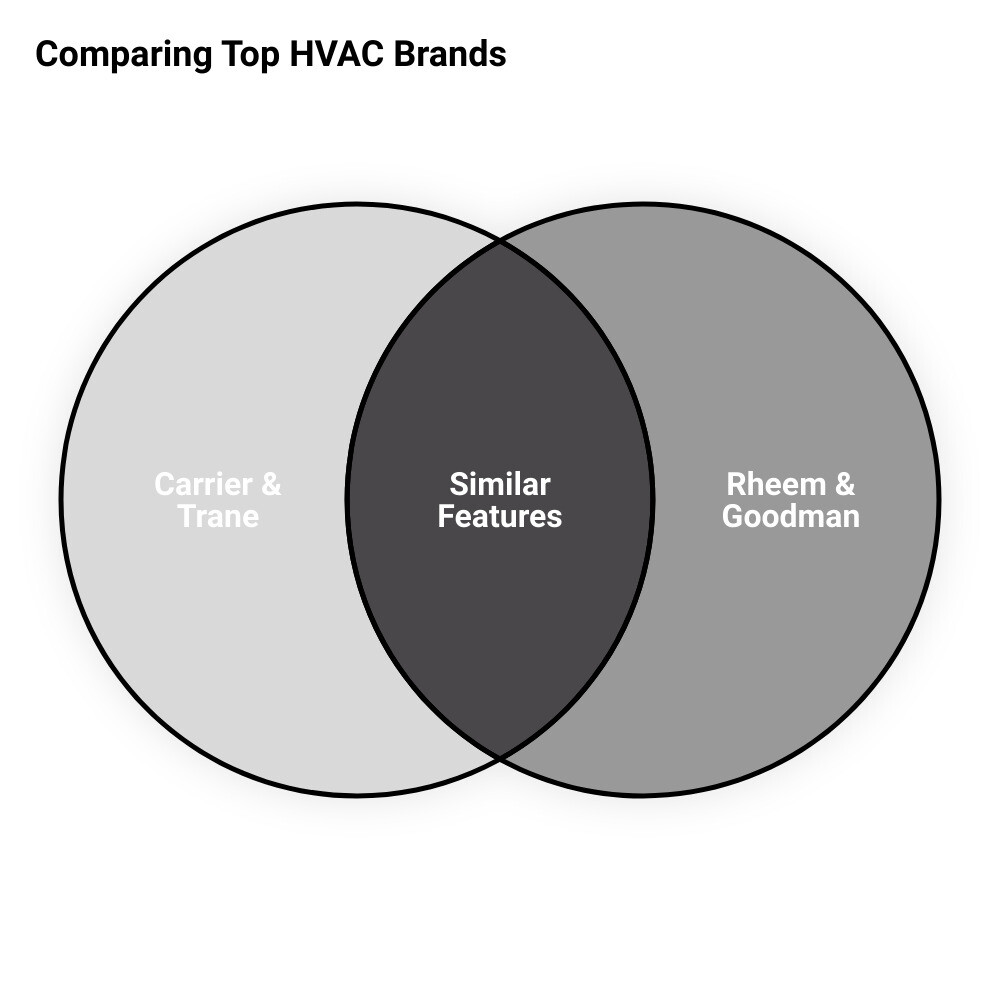 Comparing Top HVAC Brands: Carrier, Trane, Rheem, and Goodman
When it comes to the heating and air conditioning world, four names often stand out: Carrier, Trane, Rheem, and Goodman. These companies have been at the forefront of HVAC innovation for years, providing homeowners in Kentucky and across the United States with reliable, efficient, and high-quality systems. Let's dive into a comparative analysis of these top HVAC brands to see how they stack up against each other.
Carrier vs Goodman: A Comparative Analysis
Carrier and Goodman, two household names in the HVAC industry, are often compared for their reliability, cost-effectiveness, and warranties. Carrier, a US-based company with a reputation for high-quality and dependable products, often comes out on top when it comes to reliability and associated costs/warranties. Despite having a slightly higher price point, Carrier's commitment to quality and dependability make it a worthwhile investment.
On the other hand, Goodman, known for its great value and slightly lower price point, scores well in terms of affordability. While Goodman may not match Carrier in terms of overall reliability, it still offers good performance, making it a sensible choice for homeowners on a budget.
Trane vs Carrier: Which is Better?
The debate between Trane and Carrier is a close one. Both brands are known for their high-quality air conditioning units, but they each have their own set of advantages. Carrier has an edge over Trane when it comes to maintenance and installation, offering a smoother, more hassle-free experience for homeowners.
Trane, however, excels in terms of warranty, SEER (Seasonal Energy Efficiency Ratio), and energy efficiency. Trane air conditioner units are designed for optimal performance, offering better warranty terms and superior energy efficiency. Therefore, if you're looking for a balance between robust performance and energy conservation, Trane might be the better choice.
Rheem vs Goodman: A Detailed Comparison
Rheem and Goodman, while not as high-profile as Carrier or Trane, are still popular choices for homeowners seeking reliable air conditioning systems. On a scale of the reliability where 1 is very unreliable and 5 is very reliable, Rheem scores a 2 while Goodman scores a 3. Goodman's slightly higher reliability score makes it a more reliable choice between the two, but Rheem's units are still considered dependable.
In summary, each of these brands has its own strengths and weaknesses. Your choice largely depends on your specific needs, budget, and personal preferences. Whether it's Carrier's dependability, Trane's energy efficiency, Goodman's affordability, or Rheem's respectable performance, there's a perfect HVAC brand out there for every Kentucky homeowner.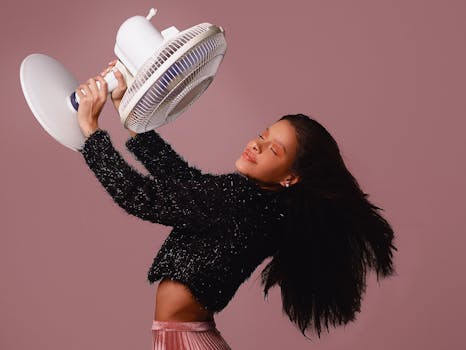 Spotlight on Thompson Heating & Cooling: A Leading HVAC Company in Kentucky
Amidst a sea of HVAC companies, one name consistently shines bright in the Bluegrass State – Thompson Heating & Cooling. This company has carved out a significant niche in the Kentucky HVAC industry, primarily due to their relentless commitment to customer satisfaction, top-quality products, and comprehensive services.
Overview of Thompson Heating & Cooling
Thompson Heating & Cooling is a revered name when it comes to heating and cooling repair services in Kentucky. For over two decades, they have upheld a sterling reputation for delivering efficient, reliable, and professional services to residents of Louisville and beyond. Their team is known for their expertise in various types of heating and cooling systems, including geothermal systems. They are also equipped to perform same-day repairs on a majority of service calls, ensuring quick restoration of comfort to your home or business.
Their commitment doesn't end with the installation or repair of your HVAC system. Thompson Heating & Cooling believes in providing ongoing support to ensure optimal performance. They are always available to troubleshoot issues, provide firmware updates, or answer any queries you may have about your HVAC system.
Unique Selling Proposition of Thompson Heating & Cooling
What sets Thompson Heating & Cooling apart in the crowded HVAC market is their unwavering commitment to quality and customer service. Recognizing the direct correlation between the quality of HVAC equipment used and the comfort and efficiency enjoyed by their clients, they partner with trusted manufacturers like Mitsubishi, ClimateMaster, and Ruud.
This commitment to quality extends to their customer service. Thompson Heating & Cooling values each of their customers, constantly striving not just to meet, but exceed their expectations. This dedication to customer satisfaction has earned them a 100% Satisfaction Guarantee.
Furthermore, their comprehensive range of services makes them a one-stop-shop for all your HVAC needs. From air conditioning repair, furnace repair, to commercial HVAC repair, they handle it all. They also offer smart home thermostat installation and integration, providing a powerful solution for homeowners seeking to improve energy efficiency, comfort, and convenience.
Customer Reviews and Testimonials for Thompson Heating & Cooling
Customer testimonials and reviews provide a powerful validation of a company's services. At Thompson Heating & Cooling, they are proud to share the positive experiences their clients have had. Their commitment to customer service, the use of top-quality HVAC equipment, and their comprehensive range of services have resulted in an overwhelming number of positive experiences shared by satisfied clients.
In conclusion, if you're looking for a proficient team that genuinely cares about your comfort, Thompson Heating & Cooling is a name you can trust. Their dedication to ensuring that your heating and cooling systems function optimally all year round, coupled with their exceptional customer service and quality equipment, make them a top choice for HVAC services in Kentucky.
Top 5 Heating and Air Repair Companies in Kentucky
When it comes to HVAC services, Kentucky is home to a plethora of competent companies. Here, we spotlight five top heating and air repair companies that have carved a niche for themselves in the industry. Each of these companies stands out for their commitment to quality, customer service, and industry knowledge.
Sterling Heating & Air Conditioning: Services and Reviews
First on the list, Sterling Heating & Air Conditioning is a family-owned and operated company renowned for its quick response time and customer satisfaction. Their rapid service, often providing quotes within just 10 minutes, sets them apart in the HVAC industry.
UrBest HVAC: Services and Reviews
Next up, UrBest HVAC is a veteran-owned local company that prioritizes customer satisfaction. This company is known for its swift response times and high-quality service. Their commitment to customer care has earned them recognition as a Yelp Guaranteed business.
Air Services Comfort Solutions: Services and Reviews
With over 25 years of experience, Air Services Comfort Solutions has solidified its position as a reliable HVAC company in Kentucky. This locally owned and operated company offers guaranteed parts and labor service, ensuring customers get the best bang for their buck.
Dr P's HVAC-Heating & Air Conditioning: Services and Reviews
Dr P's HVAC-Heating & Air Conditioning is a locally-owned company that specializes in both residential and commercial services. Their fast response times and professional service have earned them rave reviews from customers. They also offer free estimates, providing a transparent pricing structure from the get-go.
Aire Serv of Louisville: Services and Reviews
Rounding up our top five is Aire Serv of Louisville, a company known for its comprehensive range of HVAC services. Aire Serv's dedication to quality and professionalism has made it a popular choice among Louisville residents. Whether it's a heating issue in the dead of winter or a cooling problem during a summer heatwave, Aire Serv has got you covered.
Remember, when picking a heating and air repair company, consider their experience, customer reviews, and range of services. These top five companies in Kentucky have proven their worth in the industry, but it's essential to choose the one that best fits your specific needs.
Tips for Choosing the Right HVAC Company in Kentucky
When you're knee-deep in the heat of the Kentucky summer or bracing for a chilly winter night, the last thing you want is a faulty HVAC system. That's why choosing the right HVAC company in Kentucky is crucial. But how do you sift through the options and find the best fit for your needs? Here's what to look for.
Factors to Consider When Choosing an HVAC Company
In the quest for the perfect HVAC company, there are several key factors to consider.
Experience and Expertise: The longevity of a company often speaks volumes about its expertise. For instance, companies like Thompson Heating & Cooling have been serving the Louisville area for years, providing a wealth of experience in HVAC maintenance and repairs.
Licensing and Certification: Always verify the company's credentials. A licensed and certified company signifies a high level of professionalism and commitment to staying updated with industry advancements.
Customer Reviews and Reputation: Don't just take the company's word for it. Look at what others are saying. Customer reviews provide first-hand insights into a company's reliability, professionalism, and quality of service.
Value for Money: While it's tempting to opt for the cheapest service, remember that quality doesn't always come cheap. Consider the value for money, including the quality of materials used, warranty offered, and the longevity of their repairs.
Availability and Responsiveness: Prompt response times are critical, especially when dealing with HVAC emergencies. Choose a company that prioritizes timely service and accurate diagnostics.
The Importance of Regular HVAC Maintenance
Beyond choosing the right HVAC company, it's essential to understand the importance of regular maintenance. A well-maintained HVAC system doesn't just ensure your comfort—it also enhances the energy efficiency of your system, leading to significant savings on your utility bills.
Moreover, regular maintenance can help detect potential issues early, preventing costly repairs down the line. When you establish a good relationship with a reliable HVAC company like Thompson Heating & Cooling, you can rest easy knowing that your HVAC system is in capable hands.
In conclusion, choosing the right HVAC company in Kentucky isn't just about solving immediate issues—it's about establishing a long-term relationship with a company that can keep your home comfortable year-round. Consider these tips when making your choice, and remember, your comfort, health, and wallet are all on the line.
Conclusion
Recap of the Top HVAC Companies in Kentucky
As we traverse through the labyrinth of heating and air repair companies in Kentucky, we've encountered numerous noteworthy contenders. Each HVAC company we've discussed has its unique strengths and specializations, ensuring there's a perfect fit for every homeowner or business owner's needs.
A quick recap: Sterling Heating & Air Conditioning and UrBest HVAC are family-owned and veteran-owned businesses, respectively, providing a personal touch to their service offerings. Air Services Comfort Solutions and Dr P's HVAC-Heating & Air Conditioning have demonstrated over 30 years of industry experience, ensuring their services are backed by a wealth of expertise. Aire Serv of Louisville also stands out with its wide range of specialized services and customer-centric approach.
Above all, Thompson Heating & Cooling shines as a beacon of quality and reliability in the Kentucky HVAC scene. With its comprehensive range of services, professional qualifications, and excellent customer service, it's a trusted partner for many homeowners and business owners in Kentucky.
Final Thoughts on the Importance of Quality HVAC Services
Navigating the HVAC landscape can be daunting, but the importance of quality HVAC services cannot be overstated. A robust HVAC system isn't just about comfort—it can impact your health, your energy bills, and even your property's value. Therefore, entrusting your heating and air repair needs to a reputable HVAC company is an investment in your home or business's long-term well-being.
As we've seen, Kentucky is home to a plethora of heating and air repair companies, each offering a unique blend of services, expertise, and customer care. Whether you're looking for a simple filter change or a complete system overhaul, there's a company out there that can cater to your specific needs.
Remember, the best HVAC companies aren't just service providers—they're partners in maintaining your property's comfort and efficiency. So, choose wisely, and don't hesitate to demand the high-quality HVAC services you deserve.
As you brave the sweltering Kentucky heat or the biting cold, remember that your HVAC heroes are just a phone call away. Whether it's Thompson Heating & Cooling or another top-notch provider, rest easy knowing that Kentucky's HVAC landscape is dotted with reliable companies ready to come to your aid.