Introduction: The Importance of Quality AC Repair in La Grange, KY
When the Kentucky sun is blazing, staying cool isn't just a convenience—it's a necessity. That's why quality AC repair in La Grange, KY, is so crucial. A well-functioning air conditioning system ensures a comfortable indoor environment, promotes energy efficiency, and contributes to the overall health of your home. But with an abundance of residential air conditioning companies in the area, finding a reliable service provider can sometimes feel like searching for a needle in a haystack.
In the heart of this HVAC labyrinth, Thompson Heating & Cooling emerges as the leading expert in air conditioning services. With years of experience and a stellar reputation, Thompson Heating & Cooling specializes in providing prompt and reliable AC repair services, ensuring your cooling system operates at its best, even in the scorching Kentucky summer.
Whether you need routine maintenance to keep your AC unit humming or professional assistance for an unexpected breakdown, Thompson Heating & Cooling has got you covered. The importance of quality AC repair in La Grange, KY, cannot be overstated. It's not just about keeping cool—it's about maintaining the comfort, health, and energy efficiency of your home. So, let's unlock the secrets of AC excellence as we delve into the world of air conditioning and why Thompson Heating & Cooling should be your go-to choice for all your AC repair needs.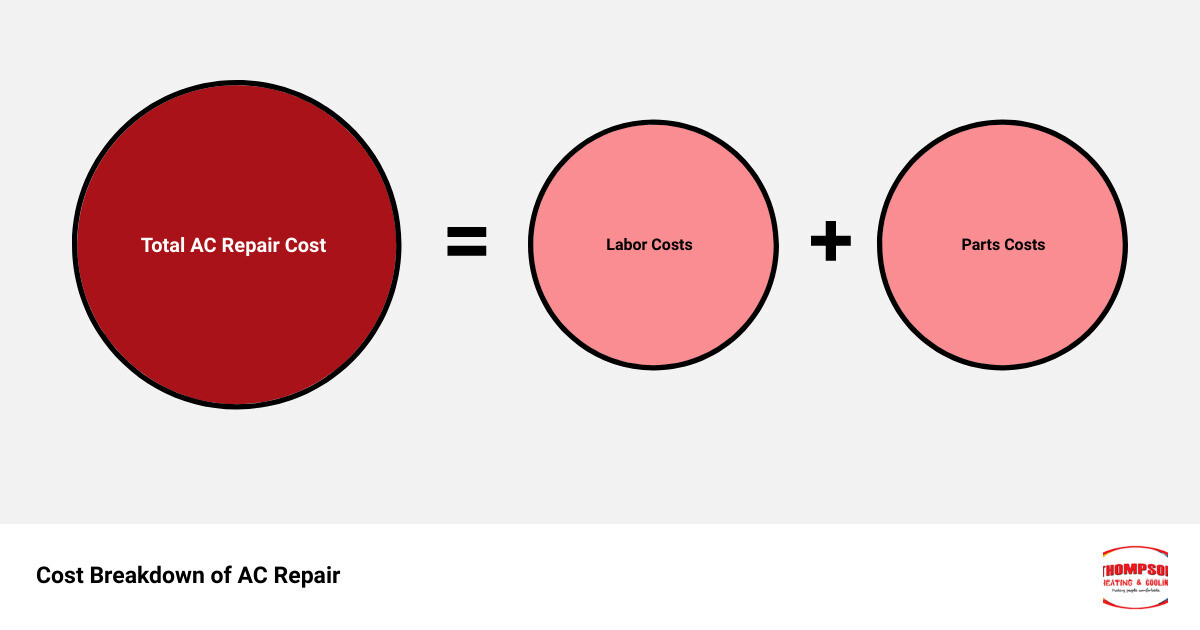 Understanding the Cost of AC Repair
As we navigate through the world of AC repair in La Grange, KY, it's essential to grasp why this seemingly straightforward service can sometimes come with a hefty price tag. When it comes to AC repair costs, there are two key factors to consider: the complexity of the repair and the cost of the parts.
Why Fixing AC Costs So Much
The art of AC repair isn't as simple as swapping out a few parts. Today's air conditioning units are complex machines, engineered with advanced technology to maximize energy efficiency and comfort. This complexity, while beneficial to homeowners, requires specialized knowledge and extensive training from HVAC technicians.
Just like a surgeon needs years of education to operate, AC repair technicians need to understand the intricate systems and unique challenges that come with each unit. This expert knowledge is a significant contributor to the cost of AC repair. Additionally, the use of specialized tools and equipment further adds to the overall repair cost.
Remember, each HVAC system is unique, and factors like the make and model, the size of your home, and the local climate can all affect the nature and cost of potential repairs.
Why AC Parts are Expensive
Another factor that influences the cost of AC repairs is the price of the parts. Due to global shutdowns and other disruptions, there has been a significant shortage of HVAC parts throughout the U.S. This has made the manufacturing and shipping of these parts more challenging, slower, and more expensive.
Inflation also plays a role in the rising costs. The increased cost of raw materials and labor is passed on to the consumers in the form of higher repair costs. Therefore, homeowners in La Grange, KY, should anticipate paying more for replacement parts and expect delays in repairs due to these shortages.
Despite these costs, it's important to remember that investing in professional AC repairs can save you money in the long run. By ensuring your AC system is running optimally, you can lower your energy consumption, prevent costly breakdowns, and extend the lifespan of your system. Understanding these costs is the first step to unlock the secrets of AC excellence.
The Process of AC Repair
With the importance of professional AC repair highlighted, the next step to understanding AC excellence is looking at the process itself. This involves two key aspects – the time it takes to fix a broken AC unit and the critical role technicians play in AC repair.
How Long it Takes to Fix a Broken AC Unit
When your AC malfunctions, time becomes an essential factor. The longer your AC is down, the more discomfort you'll experience. However, the duration of the repair depends on the complexity of the issue.
For instance, if your AC unit has low refrigerant, the problem can be resolved within a couple of hours. However, if the AC has a broken compressor, the repair might take most of the day. More complex issues, such as broken ductwork, could take a few days to fix.
Thus, the time it takes to repair an AC unit varies. It depends on the specific problem, the availability of parts, and the technician's expertise. But, in any case, professional technicians aim to resolve the problems as quickly and efficiently as possible.
The Role of Technicians in AC Repair
The role of technicians in AC repair can't be overstated. Certified and experienced technicians are armed with the necessary skills to handle the intricacies of modern AC systems.
Modern air conditioners are built with high-tech parts. Fixing them is more challenging, requiring specialized knowledge and experience. This is why most states require HVAC technicians to be certified. Hiring a certified HVAC technician not only ensures quality work but also protects you as a homeowner from potential code violations and costly future expenses.
Furthermore, technicians have the experience to diagnose problems accurately and offer the most effective solutions. They can identify performance flaws, system malfunctions, or broken components that affect your AC's ability to cool your home properly. Once they've identified the issues, they'll explain the findings and propose the best repairs to correct the problems.
In conclusion, the process of AC repair involves timely and expert intervention. Knowing how long it takes to fix your AC and understanding the role technicians play in AC repair is essential in the quest for AC excellence in La Grange, KY.
Thompson Heating & Cooling: Your Trusted AC Repair Service in La Grange, KY
The quest for AC excellence in La Grange, KY, doesn't end with understanding the repair process. It's about partnering with a trusted HVAC service provider, and that's where Thompson Heating & Cooling comes into the picture.
Overview of Thompson Heating & Cooling Services
When it comes to comprehensive HVAC solutions, Thompson Heating & Cooling is well-positioned as a one-stop-shop for all your needs. From energy-efficient heating system installations to the support and integration of smart home thermostats, their services go above and beyond the standard expectations of an HVAC company.
Their skilled technicians not only ensure that your current HVAC system is compatible with the latest technology but also provide ongoing support. They even help integrate your smart thermostat with other connected devices, enhancing the efficiency of your smart home ecosystem. Thus, they are more than just an AC repair service; they are your partners in creating a comfortable and efficient living space.
Thompson Heating & Cooling's Commitment to Customer Service
At the heart of Thompson Heating & Cooling is an unwavering commitment to customer service. They believe that their customers deserve nothing but the best, and they demonstrate this belief in their professional and efficient service calls. In fact, they manage to repair 90% of their service calls on the same day.
Their staff is not only fully licensed and certified to perform residential and commercial HVAC services but also continuously improves through training and education. This investment in their team's skills ensures that your HVAC systems are in the hands of professionals who are up-to-date with the latest HVAC technology.
The Use of Top-Quality HVAC Equipment at Thompson Heating & Cooling
Not only does Thompson Heating & Cooling prioritize exceptional customer service, but they also value the quality of equipment they use. They install top-quality products from trusted manufacturers such as Mitsubishi, ClimateMaster, and Ruud. This commitment to quality ensures that their installations and repairs are durable and efficient, translating into long-term comfort and savings for you.
In a nutshell, Thompson Heating & Cooling is the trusted HVAC service provider that La Grange, KY residents turn to for all their heating and cooling needs. From their commitment to customer service to their use of top-quality HVAC equipment, they are dedicated to unlocking AC excellence in every home they serve.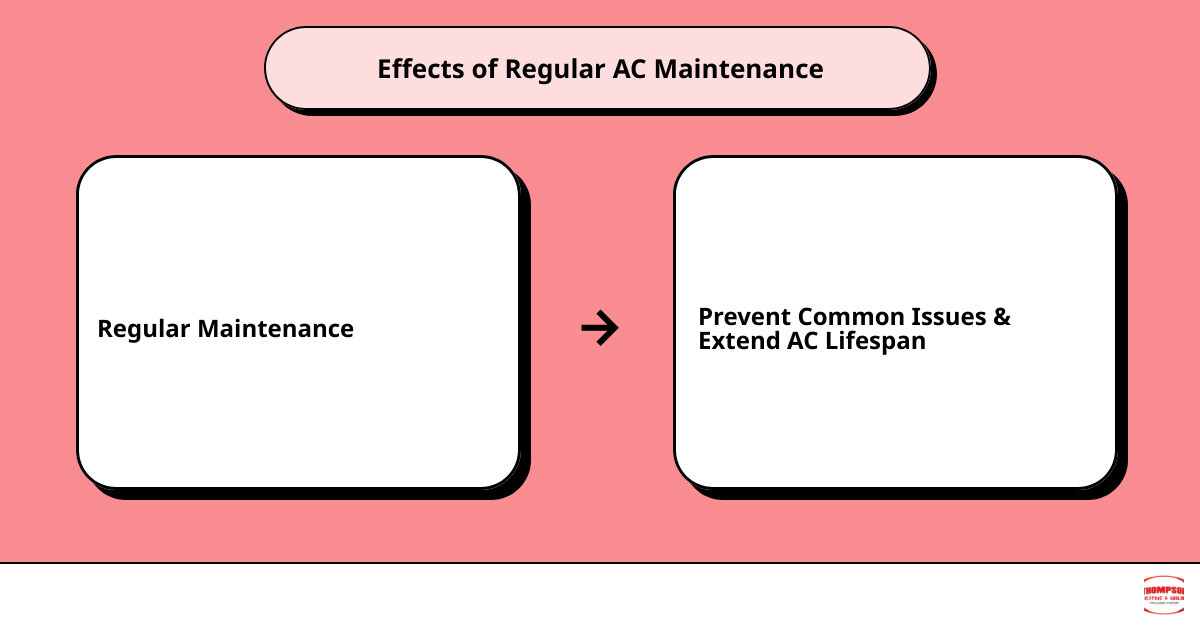 The Importance of Regular AC Maintenance
Imagine driving your car thousands of miles without a single oil change. It's likely to break down, right? The same principle applies to your air conditioning system. Regular AC maintenance is not a luxury—it's a necessity. It's the cornerstone of an efficient system, much like regular check-ups are for your health.
Preventing Common AC Issues
Regular AC maintenance helps you catch minor issues before they escalate into expensive problems. The process typically includes tasks such as replacing or cleaning air filters every 30-90 days, inspecting the outdoor unit for debris and damage, and checking the refrigerant level in cooling systems. Ensuring the thermostat's accuracy and function is also crucial, as a minor discrepancy can lead to major inefficiency.
Such preventive measures can save you from the discomfort of unexpected breakdowns, especially during peak usage periods. Remember, the peak performance of your AC unit isn't just about comfort—it's about system longevity, energy efficiency, and ultimately, cost savings.
Extending the Lifespan of Your AC Unit
Just as a well-maintained car tends to last longer, so does a well-maintained AC system. By investing in regular AC maintenance, you provide more years of reliable comfort for your home. Plus, many HVAC equipment manufacturers actually require regular maintenance to uphold warranty coverage. This means that potential issues are addressed professionally and according to industry standards, further extending the lifespan of your unit.
In La Grange, KY, AC repair and maintenance services like those offered by Thompson Heating & Cooling are designed to help you unlock the full potential of your AC system. Whether it's about cleaning your unit, replacing worn-out parts, or conducting a thorough system inspection, these professionals have got you covered. They are dedicated to ensuring your AC unit's efficiency is a continuous process, not a one-time task.
In the end, regular AC maintenance is all about ensuring a comfortable, energy-efficient home environment. So, don't wait for your AC to break down—unlock AC excellence today with regular maintenance.
Top AC Repair Services in La Grange, KY
When facing a crisis with your AC unit, it's crucial to have a reliable, trusted AC repair service on speed dial. La Grange, KY is home to numerous HVAC companies, each promising a unique blend of quality, affordability, and reliability. Here's a snapshot of some of the top AC repair services in La Grange, KY to help you make an informed decision.
Jarboe's Heating, Cooling & Plumbing
As an established HVAC company in the La Grange, KY area for over 35 years, Jarboe's Heating, Cooling & Plumbing exudes experience and professionalism. Their NATE-certified technicians can expertly diagnose and repair any brand or model of air conditioner, heat pump, or ductless HVAC unit. They also offer comprehensive air conditioner maintenance services that improve your unit's longevity and energy efficiency.
One Choice Mechanical
One Choice Mechanical is another trusted HVAC company in La Grange. They are known for their prompt service, quality workmanship, and excellent customer service. Their team of trained professionals can handle all types of AC-related issues, ensuring your home stays cool and comfortable.
BJ Heating & Cooling
BJ Heating & Cooling is a reliable name when it comes to HVAC services in La Grange, KY. They are known for their commitment to providing high-quality services, whether it's a routine AC maintenance check or an emergency repair. Their team of certified professionals is geared to tackle any HVAC challenge that comes their way.
All Hours Heating & Air Conditioning
All Hours Heating & Air Conditioning is another seasoned player in the La Grange HVAC market. They offer a wide range of services, including AC repair, maintenance, and installation. What sets them apart is their commitment to prompt, round-the-clock service, ensuring that you're never left in a lurch with a malfunctioning AC unit.
Beyer Services LLC
Beyer Services LLC combines expertise and professionalism to offer top-notch HVAC services in La Grange, KY. Their services range from simple AC repairs to complex installations, all performed by a team of certified and experienced technicians.
Remember, the key to a smoothly operating AC unit lies in regular maintenance, prompt repairs, and working with trusted professionals. Whether you choose Thompson Heating & Cooling or any of these other reputable AC repair services in La Grange, KY, you can rest assured that your AC unit is in good hands.
Conclusion: Ensuring AC Excellence in La Grange, KY
Taking the leap to invest in your home's comfort with high-quality HVAC services is a decision that pays dividends in the form of energy efficiency, system longevity, and improved indoor air quality. The secret to unlocking AC excellence in La Grange, KY, is no longer a mystery. It lies in hiring a trusted HVAC service provider like Thompson Heating & Cooling, who prioritizes customer satisfaction, utilizes top-quality equipment, and offers comprehensive services.
Thompson Heating & Cooling, a family-operated HVAC service company, has a decade-long reputation of delivering top-quality AC services and heating services. Their technicians are renowned for their expertise in HVAC services and they use state-of-the-art techniques and products to boost your home's comfort.
Thompson Heating & Cooling's commitment to its customers extends beyond just installations and repairs. Their Comfort Club provides added perks like lower utility bills, fewer repairs, and priority service, all contributing to your peace of mind.
The role of regular AC maintenance can't be overemphasized. Regular check-ups help identify potential issues, improve system efficiency, and extend the lifespan of your heating or cooling system.
Navigating the world of AC repair may seem daunting, but with a partner like Thompson Heating & Cooling, you can sit back and enjoy the comfort of your home or business in any season. Remember, your AC system is a long-term investment and it deserves the best care possible. Therefore, when you search for "AC repair service near me in La Grange, KY", consider Thompson Heating & Cooling, your partner in maintaining a comfortable, efficient, and healthy home environment.
In conclusion, AC excellence in La Grange, KY is within reach with the right HVAC service provider. Whether it's a minor repair or a major installation, make the right choice and experience the difference of a well-maintained and efficient AC system.