Introduction
In the sweltering heat that can grip Louisville, Kentucky during the summer months, a functioning air conditioner is not just a luxury, but a necessity. However, air conditioning units, like all machines, are prone to break down or suffer from inefficiencies over time. This is where the importance of professional AC repair in Louisville, KY comes into play.
Importance of AC Repair in Louisville, KY
A faulty air conditioner can not only result in uncomfortable indoor temperatures but also pose potential health risks due to poor air quality and high humidity levels. Additionally, an inefficient AC unit can lead to inflated energy bills, putting a strain on your pocket. Prompt and effective AC repair services restore your unit to its optimal performance, ensuring a comfortable, safe, and energy-efficient environment for you and your loved ones.
Moreover, regular AC repair and maintenance can prolong the lifespan of your unit, saving you from costly replacements in the long run. It's clear that when your air conditioner starts to falter, seeking professional AC repair in Louisville, KY should be your top priority.
Thompson Heating & Cooling: Your Trusted HVAC Partner
Finding a reliable AC repair service can often seem like a daunting task. But for residents and business owners in Louisville, KY, there's no need to look any further than Thompson Heating & Cooling. With a reputation built on over 20 years of dedicated service, we are your trusted partner for all your HVAC needs, including top-notch AC repair services.
At Thompson Heating & Cooling, we understand that each HVAC issue is unique, and we strive to provide personalized, effective solutions to meet your specific needs. Our team of highly trained and certified professionals is committed to delivering prompt and efficient services, ensuring that 90% of our service calls are repaired on the same day.
Backed by a commitment to customer satisfaction and the use of industry-leading HVAC equipment, Thompson Heating & Cooling stands head and shoulders above the rest. Whether it's a minor AC repair or a complete system overhaul, we aim to provide exceptional services, reviving the comfort of your home or business in Louisville, KY.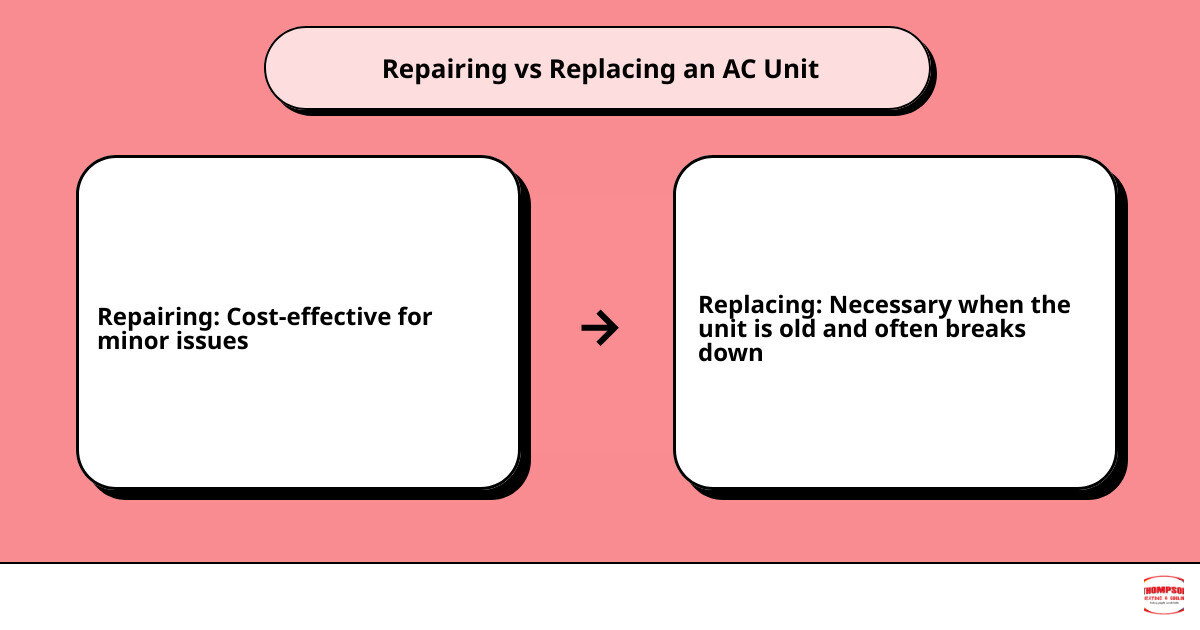 Understanding AC Repair: Is it Better to Repair or Replace an AC Unit?
When your AC unit starts showing signs of distress, it's not always clear whether a repair or replacement is the best course of action. This decision can significantly impact your comfort, energy bills, and overall HVAC maintenance costs. Therefore, understanding the nuances of AC repair and replacement can help homeowners make informed decisions.
The Cost-Benefit Analysis of Repairing vs. Replacing
One of the most critical factors when deciding whether to repair or replace your AC unit is the cost. However, it's not as simple as comparing the price of a new unit to the repair bill. You must also consider the unit's age, its energy efficiency, the frequency of breakdowns, and the potential savings of a newer, more efficient model.
A newer unit may cost more upfront, but the savings on energy bills and reduced repair costs can make it a worthwhile investment. On the other hand, if your unit is relatively new and the repair is minor, you might save money by choosing to repair instead of replace.
The $5,000 Rule in HVAC Industry
To simplify the decision-making process, the HVAC industry uses a guideline known as the $5,000 rule. This rule involves multiplying the age of the unit by the cost of the repair. If the result exceeds $5,000, replacement may be a more cost-effective option. For instance, if your 10-year-old unit needs a $600 repair, the result is $6,000, suggesting that it may be more economical to replace the system.
However, it's important to remember that this rule is a guideline, not a definitive answer. Factors such as the unit's overall condition, its performance, and your comfort should also influence your decision. Consulting with a professional HVAC technician, like those at Thompson Heating & Cooling, can provide valuable insights tailored to your specific situation, helping you make the best decision for your Louisville, KY home or business.
In conclusion, understanding when to repair or replace your AC unit is crucial in maintaining a comfortable indoor environment and managing your HVAC costs. By conducting a cost-benefit analysis and considering the $5,000 rule, you can make an informed decision that best fits your needs and budget.
Why Does Fixing AC Cost So Much?
If you've been taken aback by a high estimate for your AC repair, you're not alone. Many homeowners and business owners express surprise at the cost of fixing an AC unit. But what exactly drives up the cost of these repairs? Let's delve into the factors that affect the cost of AC repair and the impact of parts shortages on AC repair costs.
Factors Affecting the Cost of AC Repair
The overall cost of your AC repair can vary significantly depending on the specific issue at hand. Some problems may only require a simple refrigerant recharge, while more extensive issues like a broken compressor can incur a higher cost.
Modern HVAC systems are complex pieces of machinery, composed of a multitude of components, each performing a specific function. Therefore, diagnosing and fixing these systems pose a challenge that requires specialized knowledge and tools. This expertise, combined with the use of specialized equipment, contributes to the overall cost of HVAC repairs.
Moreover, every HVAC system is unique, with factors like make and model, the size of your home or business, and the local climate potentially affecting the nature and cost of potential repairs. This uniqueness means that your technician must spend more time diagnosing and resolving the issue, which can increase labor costs.
The Impact of Parts Shortages on AC Repair Costs
Another significant factor contributing to the high cost of AC repair is the rising price of parts. In recent years, there have been significant shortages in HVAC parts across the U.S., largely due to global shutdowns and other issues. This has made the manufacturing and shipping of these parts more challenging and slower, which in turn drives up prices.
The HVAC industry, like many others, is also grappling with inflation. The increased cost of raw materials and labor is passed on to consumers in the form of higher repair costs. As a result, homeowners and businesses should anticipate paying more for replacement parts and expect delays in repairs due to these shortages.
In a nutshell, the cost of AC repair is influenced by a wide range of factors, from the complexity of your HVAC system to the current supply of parts. While these costs can be significant, remember that regular maintenance and timely repairs can prevent more costly breakdowns in the future. When you need top-quality HVAC services in the Louisville, KY area, you can always rely on the experts at Thompson Heating & Cooling to provide efficient and effective solutions.
How Long Should it Take to Fix an AC Unit?
When you're sweltering in the Kentucky heat, every minute your air conditioner is out of commission feels like an eternity. However, understanding the typical repair times for common AC issues can help set your expectations and ease your stress.
Common AC Problems and Their Repair Times
Some AC problems are quicker to fix than others. For instance, if your unit is low on refrigerant, a professional HVAC technician can typically recharge it within a couple of hours. On the other hand, more complex issues like a broken compressor can take up most of a day for a technician to fix.
Furthermore, if there is broken ductwork, the repair project can actually span over a few days. This is because fixing ductwork involves not only repairing the physical damage but also ensuring that the airflow throughout your home is balanced and efficient.
The Importance of Timely AC Repair
Regardless of the problem, prompt AC repair is crucial in Louisville, KY. Delays in fixing your AC unit not only leave you uncomfortable in the heat but can also lead to more severe and costly damage. For example, if a faulty compressor is left unaddressed, it can lead to a total system breakdown, necessitating a complete replacement.
Moreover, timely repair ensures that your AC unit operates at peak efficiency, which can significantly impact your energy bills. An inefficient AC unit has to work harder to cool your home, consuming more energy in the process.
When your AC unit is struggling, don't wait for the situation to worsen. Reach out to Thompson Heating & Cooling for prompt, professional, and efficient AC repair in Louisville, KY. Our team of experienced HVAC technicians is committed to restoring your comfort as quickly as possible.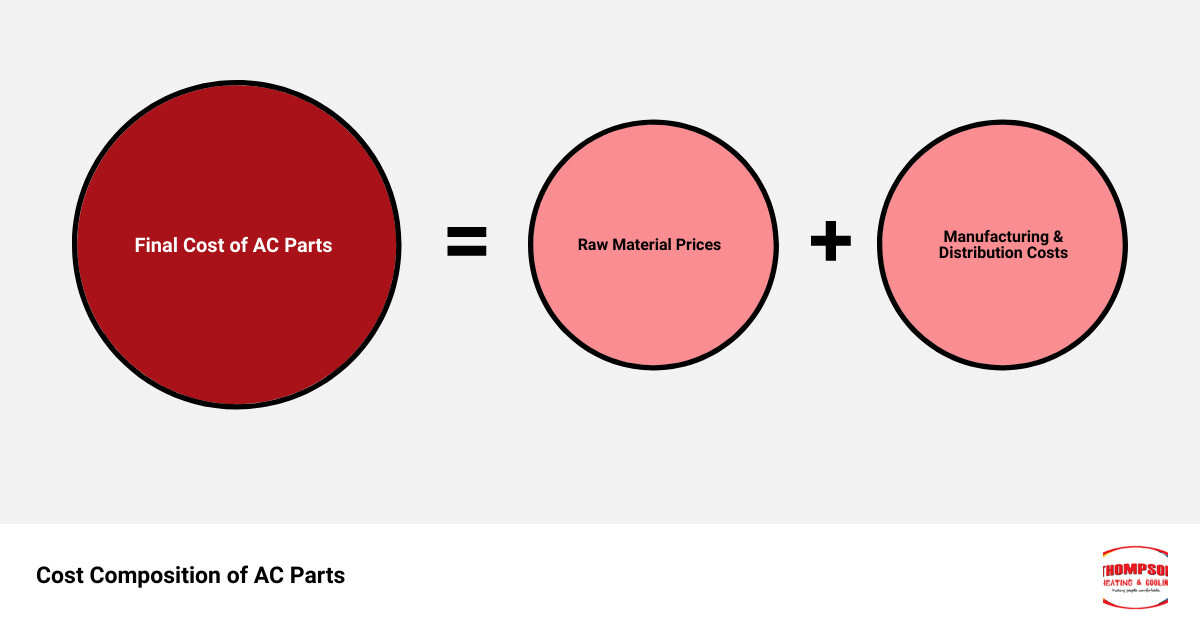 Why are AC Parts So Expensive?
It's a question many homeowners and business owners in Louisville, KY find themselves asking when faced with the need for AC repair. Why are the parts to fix my air conditioner so expensive? The answer lies in a complicated mix of global economic factors and industry-specific challenges.
The Impact of Global Shutdowns on HVAC Prices
The world of HVAC is not immune to the ripple effects of global events. In fact, global shutdowns and disruptions in manufacturing and shipping have greatly impacted the availability and cost of AC parts. This has led to a surge in HVAC prices across the US, including Louisville, KY.
The production and distribution of HVAC parts are complex processes involving numerous stages, from the extraction of raw materials to the assembly of final products. Shutdowns and disruptions in any of these stages can lead to delays and increased costs, which are ultimately passed on to the consumer.
Moreover, the HVAC industry is grappling with increasing inflation. This means the cost of raw materials and labor is rising, which in turn increases the price of the parts. So, the next time you wonder why it costs so much to replace a compressor or recharge a refrigerant, remember that these parts are part of a larger, globally connected supply chain.
How to Navigate the Rising Costs of AC Parts
While the increasing prices of AC parts may seem overwhelming, there are steps you can take to navigate these challenges. Firstly, regular maintenance of your AC unit can help prevent minor issues from escalating into major ones that require expensive part replacements.
Moreover, when a repair is needed, relying on a reputable HVAC service provider like Thompson Heating & Cooling can ensure that you receive top-quality service at fair prices. We understand the strain these price increases can put on homeowners and businesses in Louisville, KY. That's why we are committed to providing cost-effective solutions without compromising on the quality of our work.
In times of global uncertainty and rising costs, it's vital to have an HVAC service provider you can trust. Thompson Heating & Cooling is here to help you navigate these complexities and ensure that your AC unit is in top shape, no matter what the global economy throws our way.
Top AC Repair Services in Louisville, KY
When your air conditioner breaks down in the middle of a hot Kentucky summer, time is of the essence. You need a reliable, professional AC repair service that can quickly and efficiently get your system up and running again. In Louisville, you're in luck. This city is home to an array of top-tier HVAC companies, each with its unique expertise and commitment to customer service. Let's take a closer look at some of the standout AC repair providers in the area.
Sterling Heating & Air Conditioning: Over a Century of Experience
First on the list is the family-owned Sterling Heating & Air Conditioning, a company that has been serving the Louisville community for over a century. Known for their quick response times and a high level of customer satisfaction, Sterling offers a wide range of services, from new installations to emergency repairs.
Maeser Master Services: A Trusted Name for Over 40 Years
Next up is Maeser Master Services, a company that has been a staple in the Kentucky HVAC industry for over four decades. With a reputation built on quality and customer satisfaction, Maeser is a trusted choice for both residential and commercial HVAC needs.
Dr P's HVAC-Heating & Air Conditioning: Expertise and Value
Dr P's HVAC-Heating & Air Conditioning is a locally-owned company known for its professional service and quick response times. Whether it's annual furnace cleanings or complex HVAC installations, Dr P's embodies expertise and value in their comprehensive HVAC solutions.
UrBest HVAC: Veteran-Owned and Customer-Centric
As a veteran-owned company, UrBest HVAC brings a unique perspective to the industry. They're committed to providing high-quality service to their customers, and their quick response times have earned them recognition as a Yelp Guaranteed business.
Air Services Comfort Solutions: Top Quality and Lasting Relationships
Last but certainly not least, Air Services Comfort Solutions has over 25 years of industry experience. This locally-owned company prides itself on providing top-quality services, establishing lasting relationships with its clients through guaranteed parts and labor services.
Each of these AC repair services brings a unique skill set and approach to the HVAC industry in Louisville, KY. Whether you're dealing with a minor issue or a major breakdown, you can trust these companies to provide top-notch service. However, as we move forward, we'll take a closer look at one company in particular, Thompson Heating & Cooling, which is known for its exceptional service and commitment to customer satisfaction.
When you're in need of AC repair in Louisville, KY, it's easy to get overwhelmed by the numerous options available. However, when it comes to consistent quality, unrivaled expertise, and unwavering commitment to customer satisfaction, one name stands out from the rest: Thompson Heating & Cooling.
Our Commitment to Customer Service
At Thompson Heating & Cooling, we believe that the customer is at the heart of our business. We're not just here to fix your AC unit; we're here to ensure that your home or business is a comfortable place to be, regardless of the season. Our team is dedicated to providing prompt and efficient service, with a staggering 90% of our service calls resulting in same-day repairs.
We're not just about quick fixes, though. We take the time to understand the unique needs and challenges of each customer, offering tailor-made solutions to ensure optimal comfort and efficiency. Our professional team is fully licensed and certified, and we continuously improve our skills through training and education to ensure that we can handle the ever-evolving demands of HVAC technology.
Our Use of Top-Quality HVAC Equipment
Thompson Heating & Cooling is not just committed to delivering exceptional service; we're also dedicated to using top-quality HVAC equipment. We understand that the quality of your heating and cooling system can make a significant difference in your comfort and energy costs. Therefore, we only use equipment from trusted manufacturers, ensuring that you get maximum value for your investment.
Whether you need a simple AC repair or a full-scale installation, we got you covered. We offer a range of services including air conditioning repair, furnace repair, and commercial HVAC repair. Moreover, our services are not limited to traditional HVAC systems. We also handle geothermal installations, offering one of the most efficient and long-lasting options available in the market.
In conclusion, for reliable, efficient, and top-quality AC repair in Louisville, KY, trust none other than Thompson Heating & Cooling. We're committed to making your home or business a comfortable place to be, offering a seamless blend of quality workmanship, exceptional service, and value for money. Experience the superior service that sets us apart by giving us a call today.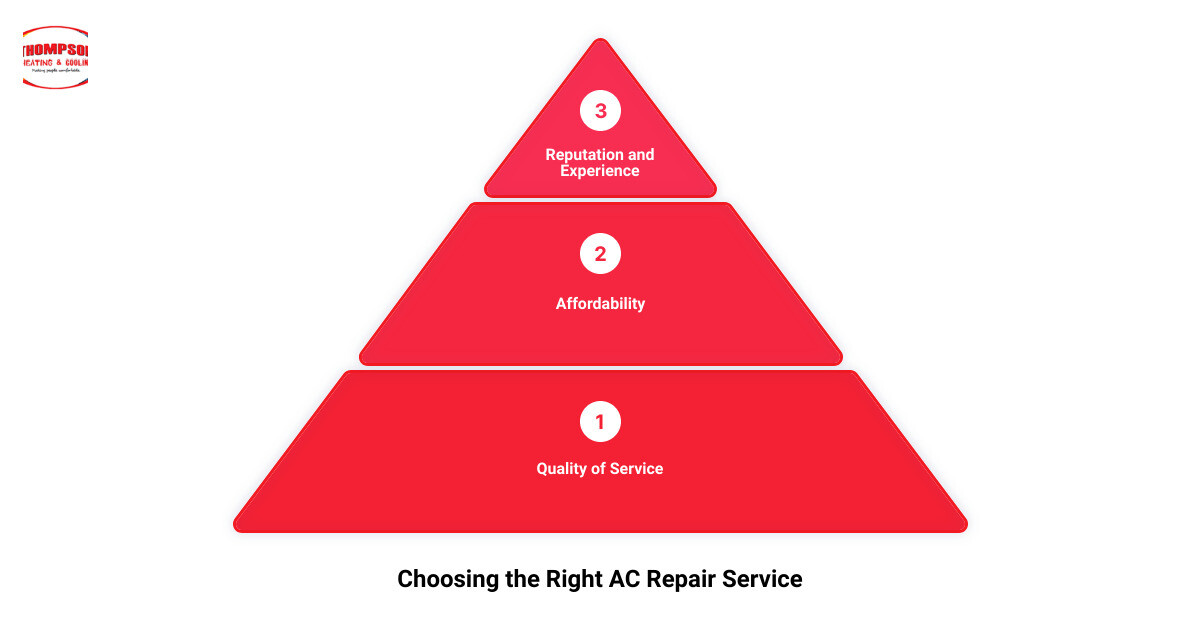 Conclusion
The Importance of Choosing the Right AC Repair Service in Louisville, KY
Ultimately, the comfort, safety, and energy efficiency of your home or business falls into the hands of the AC repair company you choose. That's why making the right choice is so crucial. A high-quality HVAC service ensures an optimal indoor environment, longevity of your equipment, and significant long-term savings.
Whether you're dealing with a minor AC hiccup or a major breakdown, you need a team that can respond promptly, diagnose the issue accurately, and provide effective solutions. Moreover, a reliable HVAC company doesn't just fix the problem at hand, but also provides valuable insights and recommendations on maintaining your system, enhancing its efficiency, and ensuring uninterrupted comfort.
Why Thompson Heating & Cooling is Your Best Choice for AC Repair
In the sea of HVAC services in Louisville, KY, Thompson Heating & Cooling rises as the beacon of quality and reliability. Our commitment to customer service, use of top-quality HVAC equipment, and the collective experience of our team set us apart from the rest.
We believe in treating our customers like family, and their homes like our own. This means providing personalized comfort solutions tailored to your unique comfort requirements and energy-saving objectives. Our team of professionals will guide you through the process, from selecting the right equipment to its installation and maintenance.
Our customer reviews and stellar reputation speak volumes about our dedication to providing exceptional service. We consistently exceed expectations, not because it's our job, but because we genuinely care about your comfort.
With Thompson Heating & Cooling, it's not just about fixing a broken system or installing a new one; it's about creating a comfortable, safe, and energy-efficient environment for you and your loved ones. We understand that every call we receive is a trust placed in our hands, and we strive to honor that trust with unwavering professionalism and top-notch service.
So, when it comes to AC repair in Louisville, KY, make the smart choice – choose Thompson Heating & Cooling. We promise to deliver exceptional service, every time, ensuring your home or business stays cool and comfortable, no matter how intense the summer heat gets. Contact us today and experience first-hand why we're the preferred choice for many homeowners and businesses in Louisville, KY.